Focus on the process or trip over the talent.
As educators, when we focus on the process, the daily disciplines, we can help our students and athletes achieve great things. But we can also trip over the talent. Whether it be in classroom or on the playing field. We can confuse talent as a bridge to a quick fix and instant success. I have done it, I imagine many of us have. The talent blinds us as we get lost in the pursuit of recognition and the mirage of success. Our world is wired that success is in the status, the scores, the records, the championships, the "stuff". But the world is wrong. Success is not in the "stuff", it is created in the messy work, the daily grind, we call the process.
Being blinded by talent comes as subtle as that holiday weight gain, well I speak for myself. Most often we do not realize it until one day we step on the scale and think how the heck did I get here. Talent becomes seen as the quickest route in our GPS of desire for success. Having talent around us let's us stay comfortable. As a coach, when I have had an abundance of talent, I did not have to do near the work, or have to invest as much of myself in getting messy. With talent there is less risk, so there is less mess. Talent can put us to sleep and rob us of our true gifts and abilities as teachers and coaches. We see reward and lose focus on the process. Many times we fall flat on our faces and it is our own doing,
Is it all about "me", or is it all about "we".
So how do we avoid it? I believe there is a simple answer to that question. What you focus on, what you put your energy towards, is what drives you. If your focus and energy is on the outcomes you become susceptible to tripping over the talent. If you see your end game as teacher of the year, highest state test scores, or a state championship then you will seek out what you need to achieve that. You seek talent and ride its coat tails. If your end game is bigger than yourself. If it is in building relationships, developing talent, planting seeds for a successful life. Then your focus in on the process. It all comes down to what we focus on. Is it all about "me", or is it all about "we"?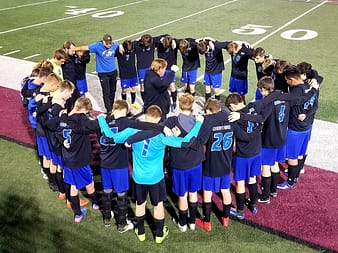 A few years ago, I was coming off one of, if not the best, season's as a coach I had ever had. Not many noticed because we did not qualify for the playoffs and we didn't achieve any status that signaled what most call success. But that squad won more games that season than they had in the previous five seasons combined. A turnaround of an entire programs culture had taken place. Everyone in our locker room knew it, but that was about it. Honestly, I felt overlooked and wanted to prove to everyone that they were missing out on a great story. I wanted them to see "me". So the next season I was going to shock the world, we were competitive again, but we also had talent.
I did not focus on the process and I tripped over my talent.
From day one of training, I was laser focused on the outcomes. More wins, a playoff berth, and another shot at the State Coach of the year for me. I became blind to the process by the glare of all those shiny awards and the distraction of success. As the season progressed, I grew increasingly focused on me and not the we. I lost touch with building relationships and creating culture and became obsessed with pushing my talent to win at all costs. The secret sauce to turning around that program I threw out in the garbage for the promise of riding on the back of my talent to glory. I didn't just stumble, I tripped and fell flat on my face. And in turn, my team crashed and burned. We had a losing season. More talent, less wins. All because I did not focus on the process and I tripped over my talent. My focus was off and my team paid the price.
If we want true success, the kind you cannot measure in a test score, in being a high flier, at the end of the game on a scoreboard, or being the MVP. But the real, long lasting, success that propels them into being the hero's in their families, their careers, and champions in life. Then we have to focus on the process. That daily discipline of putting in the work. Being present in just today, pouring out your gifting as a teacher and coach into every single one of your kids. Not parceling it out to the one's with natural talent. But giving to all of them, developing the talent in each of them, raising the standards for the benefit of them all.
That talent becomes success when….
Empower those with the talent to serve those with less. Teach them to understand that without the class, without the team, their talent becomes less significant. Yet, without their talent, the class or that team also becomes less significant. That talent becomes success when they realize that they are measured by what they give and not what they get. By focusing on the process you instill that giving spirit and soon your whole group will consist of students and athletes who become fulfilled because of their desire to pour into one another.
It is easy to trip over talent. We want to be recognized and valued. I mean who doesn't like to win a championship. But the key is in how you get there. Focus on the process and you are well on your way. Embrace being uncomfortable, take on the messy and difficult ones, take risks with your heart and love them all. When you take the time to develop relationships with all of them, no matter the talent level, you begin to create a culture that will thrive. You foster an environment of family that develops talent instead riding on it's coat tails. Focus on the process and never forget, when you go all in, all together, you win every single time.