By: Michelle Frank
The effects of addiction on holidays
This year on the 4th of July. Food, friends and the crack and boom of fireworks. Not for me. A holiday intended to celebrate freedom was once again a reminder of my slavery to the memories of holidays past with an addict. Oh, those wonderful happy holiday triggers.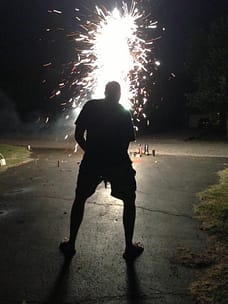 As I drove around by myself after leaving the house to escape the kids for a moment, I reflected on 4th of July's past and realized my seemingly lazy day was really avoidance of a holiday and the triggers that accompany it.
Trips to our friends' houses where we ate, visited, and he drank…. A lot. I managed all the kids, worried that he would blow his hand off with fireworks and wondered how the conversation about which of us would drive home would go.
…..Unless there was booze.
This hot holiday is not the only one ruined by addiction. My dreams of hosting big gatherings with friends and family were usually halted due to a hangover or lack of help getting the house or food ready. We were usually in and out if we went somewhere…. Unless there was booze. The lack of mutual friends also prohibited happy gatherings, so sometimes I would go alone with the kids.
A family trip to Tulsa for Thanksgiving became an omen of my life to come. A Christmas where I woke to the gift of "I don't want to be married anymore. Merry Christmas. Tell your parents not to come." He, his jug of whiskey and 2 liter of Dr. Pepper spent the day upstairs in the bedroom only to come down for lunch and presents with a glossy stare.
Days about appreciation and love were passed by….
Birthdays, Mother's day, Valentines Day, celebrations of success were not much different. Kids parties seemed like a hit until he swooped into the kitchen to grab his drink. Days about appreciation and love were passed by without a thought. My masters graduation party was not even attended as he left me a note that morning that he would not be attending.
Each event passed by with a glimmer of joy lined with sorrow. There was a sigh of relief that we wouldn't be embarrassed by actions or words caused by alcohol while at the same time grief that we were not celebrated by the one we loved.
Happy Holiday Triggers
Four years after leaving the marriage, I still struggle with the trigger of an unhappy holiday. I strive to make those times joyous for the kids and me, make new traditions, and be around people we love. I can not replace the memories of holidays past, but I can work toward providing clean fun experiences we can all reminisce and smile about.